Low Cost Dust Shoe for the X-Carve CNC Router
Thursday December 1, 2016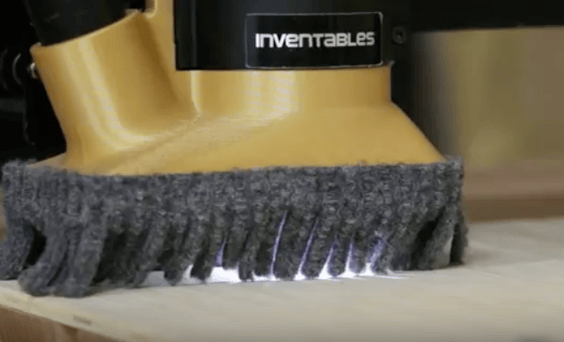 This is a dust shoe attachment for the Inventables X-Carve CNC with the DeWalt DWP611 Router option. Adding a dust shoe is an easy and inexpensive way to upgrade your X-Carve. The dust shoe connects to a vacuum that extracts the chips created while cutting. The chips no longer get caught up in the cutting tool during each pass and do not get deposited on the rails for cleaner, more accurate cuts.
The dust shoe itself is 3D printed and the file is below for your convenience. The dust shoe easily attaches to the side of the router mount on the X-Carve using 1 to 2 M3 X 16mm socket head screws. A separate vacuum hose snugly fits into the dust shoe. This makes it easy for removal for post carving cleanup if needed. There is also a 3D printed adapter piece for the two different brand hoses I used. You may or may not need this for your build.
See full parts list below. Feel free to make your own improvements and adjustments to the design as you see fit. Carve clean and enjoy!
3D Printing Files
http://www.thingiverse.com/thing:1883369
Print settings
Rafts: No
Infill: 40-100%
Parameters: 2 minimum
Supports: Yes
Parts
Felt/Carpet/Rubber
Epoxy
Wood Screws
Cable-Tie
You may also be interested in our most-viewed tutorial blog last month– check out DIY Vacuum Pickup Tool for SMT Pick and Place.